UI-View
Overview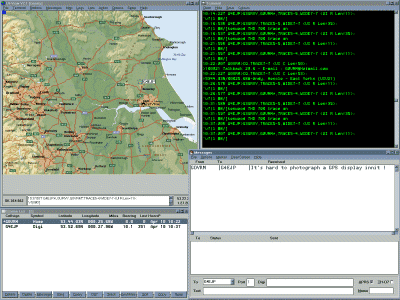 The most commonly used APRS software in the UK is UI-View - written by the author of Winpack, Roger Barker - G4IDE. In addition to supporting the vast majority of APRS features, UI-View also has its own protocol, tailored for communication between fixed stations in a more efficient manner than APRS, by use of specific digipeater paths; UI-View also supports multi-line messages and a host of other features.
Getting Started
Communications Setup
Once you have downloaded and sucessfully installed UI-View, available from Roger Barker - G4IDE's Site www,packetradio.org.uk, you will need to plug your TNC into your computer and set up your communications settings - If you have been using another packet program, such as Winpack, make a note of your communications settings and replicate them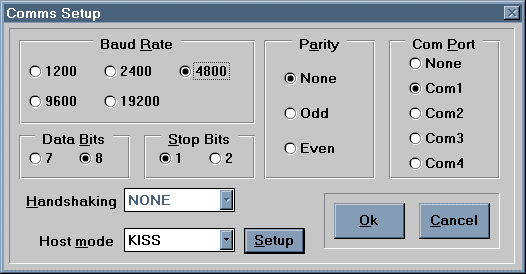 Com Port - Usually either Com 1 or Com 2, where your TNC is plugged into your computer (on a standard ATX motherboard, Com 1 is nearest the keyboard and mouse sockets).
Baud Rate - Set your computer to match the speed your TNC is set
(on some TNCs this is set on DIP switches on the rear of the unit or internal jumpers).
Parity, Data Bits, Stop Bits - Ideally, should be None,8,1
Host Mode - If your TNC supports 'KISS', this setting is recommended
(The TNC is bypassed and UI-View encodes and decodes packets).
Setup (KISS only), Allows you to select default KISS settings for your TNC
(TNC2 - Tiny 2, Ka - Kantronics, Pk - AEA PK232 etc.).
Station Setup
As well as entering your callsign, you will need to tell your system where you are - your location can be either entered manually from a map (using the menus as shown below) or automatically by connecting a GPS receiver, which outputs NMEA 0183 data (the industry standard for GPS-to-computer interfacing) into your other 'Com' port.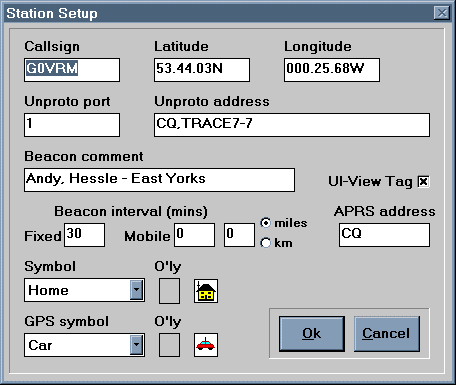 Callsign - Please use your own !
Lattitude/Longitude - If you don't know your lattitude/longitude
you can get this from a map or a GPS.
Unproto Port - On a single port TNC, this is set to '1'.
Unproto address - See below.
Beacon Comment - This comment is sent with your position and
may include your name and QTH (or e-mail / web page address!).
Symbol - The symbol used for your fixed station
GPS Symbol - The symbol used when a GPS is attached, i.e. for mobile operation
Addresses
Unproto Path
The 'Unproto Path' is the generic address to where UI-View beacons and requests are sent, the default setting is 'CQ'. When sending messages, UI-View sets the address to that of the recipient's callsign.

The additional information on this line, following the comma (i.e. 'TRACE7-7') is the 'digipeater path', which specifies how beacons are propagated through the network by other stations - See the Section on 'Digipeaters' for an explanation of this.
APRS Address
The 'APRS Address' is the generic address to where APRS messages are sent - The recipient's callsign is part of the APRS data itself.
---
A.D.Russell G0VRM/P.R.Sheppard G4EJP