Real-Time Solar Images
The Solar and Heliographic Observatory SOHO is a satellite based solar telescope. It was launched on December 2, 1995 and placed in an orbit around the L1 Lagrangian Point between the earth and the sun - At this point, the gravitational pulls of the earth and the sun effectively cancel each other out.

At the position of approximately 1 million miles above the earth, it offers a continuous view of the sun and provides, through its instrumentation, views of the sun's interior, surface and corona.

At this position, it allows approximately one hour notice of potentially threatening solar events, such as Coronal Mass Ejections and solar storms, which could disrupt global communications. In addition, it provides real-time measurements of the solar wind responsible for the aurorae.
Images and data courtesy of SOHO/EIT and SOHO/MDI consortia.
SOHO is a project of international cooperation between ESA and NASA.
Solar Surface Temperature
The SOHO EIT (Extreme ultraviolet Imaging Telescope) allows images the solar atmosphere to be taken at several wavelengths, and shows solar material at different temperatures.

The image taken at 30.4 nm (nanometres) shows material at approximately 80,000 oC as bright areas. Similarly, those taken at 17.1 nm at correspond to 1 million oC, and 19.5 nm correspond to about 1.5 million oC.
The hotter the temperature, the higher up you are looking in the solar atmosphere.
Solar Oscillations
The SOHO MDI (Michelson Doppler Imager) measures the to the Doppler Shift of solar radiation centered at 676.78 nm (red-orange visible light). The view presented here shows the sunspots on the solar photosphere as seen by an observer on earth.
| | |
| --- | --- |
| | This instrument is used to measure the movement |
17GHz Radio Images
The Nobeyama Radioheliograph is a radio inferometer. consisting of 84 parabolic antennas, each 80cms in diameter. The antennas span 490m east/west and 220m north/south.

The System is capable of producing images at 17GHz, using either right or left hand circular polarization, and measuring intensity at 34GHz (presumably the larger dish in the background?).
Raw data in the form of cross-correlation values from all the antennae is processed into the synthesized image, below, from the spatial Fourier components.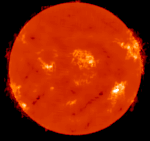 Raw Data from this telescope is freely available, allowing the scientific community direct access to the original data set.
---
A.D.Russell G0VRM/P.R.Sheppard G4EJP