Weather Satellites
Real Time Weather Images
The images below are taken from the Meteosat geostationary satellite, which remains in orbit above a fixed point on the Earth. The infrared image is updated at approximately 00:00, 06:00, 12:00 and 18:00 GMT, the visible image updated once a day at 12:00 GMT.
| | |
| --- | --- |
| Latest Infra Red Image | Latest Visible Image |
Images such as these are used to produce the more conventional weather forecast data by the Met. Office and the ECMWF - European Centre for Medium Range Weather Forecasting.
| | |
| --- | --- |
| | All images are available from and are ©2000 |
The above barometric pressure chart may be useful for predicting tropospheric ducting and similar phenomona, causing 'lifts' on the 2m and 70cms bands, especially when there is a significant area of high pressure (known as an anticyclone).
Weather Satellite Reception
The simplest start point for weather satellite reception are the polar orbiting satellites, these satellites orbit the earth approximately once an hour - although they are be only visible when passing the horizon.

The image below was received using nothing more than a Realistic Pro-2006 Scanner, fed from a simple Turnstile Antenna and decoded using WXSat - The software is freely available to non-commercial users and uses the PC Soundcard.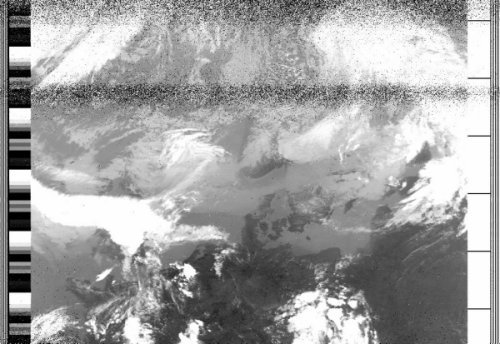 As usual, the UK was blanketed by the cloud, running from the left !

For more information about the equipment required for reception of weather satellites, please visit the Remote Imaging Group website.


In addition, free images and predictions for satellite passes are available from Dundee Satellite Receiving Station, located at Dundee University.
Updated - 17/7/2000
---
A.D.Russell (G0VRM)/P.R.Sheppard (G4EJP)